Iowa State holds off Baylor, 28-14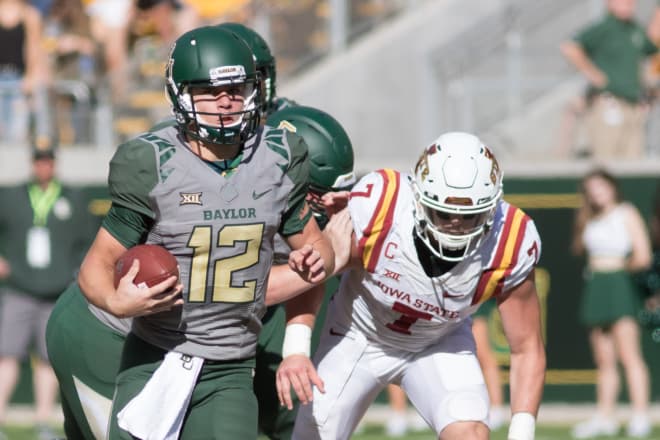 Baylor (5-4, 3-3) at No. 22 Iowa State (5-3, 4-2)
Site: Jack Trice Stadium, Ames, IA
Time/Day: 2:30 p.m. Saturday
TV/Radio: FS1/ESPN Central Texas
Betting Line: Iowa State -16 ½
Series: Baylor leads, 9-7
Welcome to the stretch run of the 2018 college football season. For Baylor's football program, it's going to finish with a flourish or a washout.
There really isn't anything in between because of what it as stake. Following the dramatic 35-31 victory over Oklahoma State at McLane Stadium, the Bears are now making the serious push toward bowl eligibility.
This isn't a wish-upon-a-star goal. This is tangible. The Bears have three opportunities to attain. While every game in a conference race is a battle, Saturday at Iowa State arguably presents the most daunting.
Iowa State is the conference's hottest team with four consecutive wins. It presents the top defense in the conference. It also features a freshman quarterback in Brock Purdy who has somehow found the Midas Touch. The winner of this game becomes bowl eligible. Regardless, a win Saturday or in one of these last three will send the Bears into playing in late December.
This also is Baylor's road finale. And it's been quite the demanding stretch. The Cyclones are the fourth consecutive road opponent the Bears have faced. That hasn't happened since 1977.
"This is such a good football team, that if we are focused on December or January we will probably miss this Saturday,'' Baylor head coach Matt Rhule said. "Iowa State is a tough place to play. I have never been there, but I have heard from the players and from talking to other people. I just think we need to be completely focused on Iowa State this weekend."
And then there's the weather. While it's expected to be dry – it snowed Friday morning – the forecasted high is to be about 31 with a wind from the southeast that's going to create a chill that should drop the temperatures in the 20s.
Couple that with the loss of Daylight Savings Time and the sun going down early and by about 5:00 p.m., the wind will not have to help the temperatures drop.
Here are some elements to look for
>Baylor's rushing attack found some success last week against Oklahoma State when it rushed for 244 yards. That was the third-highest total of the season. Baylor rushing attack will face the Big 12's top rushing defense in the Cyclones. It permits just 104.9 yards per game.
>Iowa State's defense presents so many different looks, Rhule said it would be impossible to have a prepared an answer for everything with only a week to do it. He said the plan would to make sure that how the Bears prepare for this game will be to make sure they know assignments and execute.
>Jalen Hurd never ceases to amaze with his versatility. While he has become a slash at both receiver and running back, he was used last week on defense in the final play of the game. He recovered the fumble after a series of laterals to preserve the win over Oklahoma State. Baylor will continue to use him in any or all situations if it comes to that.
>While the left side of the offensive line has had its problems, it appears true freshman Connor Galvin has secured himself as the starting left tackle for the foreseeable future. He is expected to make his third consecutive start. Florida/Clemson transfer Jake Fruhmorgen has been moved to the backup right tackle spot. Senior Josh Malin is still not where he was physically after suffering his knee injury in the opener against ACU. So far, Galvin has handled everything as well as can be expected.
Notable
Hurd has an outside chance at a 1,000-yard season. He's currently sitting at 756.
Keys to the Game
>Ain't that Purdy – Brock Purdy's emergence at Baylor's QB has been nothing short of exceptional. He took over after the first series at Oklahoma State a month ago and has been very sharp. Purdy has also distributed the ball very well.The Bears cornerbacks are going to get tested, especially with the talented Hakeem Vance (33-791 8TD).
>It's just air – It won't be known exactly until kickoff what the temperature will be like for this game. It will be cold. This group of Bears hasn't gone through weather like this. So it will be a mental game for them to stay alert and alive and not give in when things will get tough. Working in their favor is Rhule's history when he played at Penn State and understood what it took to deal with cold weather.
>Brewer up a storm – With sophomore Charlie Brewer back as the starting quarterback, the Bears offense should find a better rhythm to it. Brewer just displays confidence. His last time out on the road at West Virginia was a disaster with three interceptions in eight attempts and a concussion. But he seems to be fine and will put that West Virginia performance behind him. And if this game is close or if the Bears need to rally, Brewer's track record speaks for itself.
>It's 2nnnnddd down – As much as it's hyped in stadiums, the Bears are pretty good on third down. The Cyclones are not. Baylor is 3rd in the conference in converting them at 46.2 percent. Iowa State is last at 35.8. But to make that stat matter, what the Bears do on offense and defense on the down prior will set it up. The Bears have to present 3rd-and-long situations for an Iowa State offense that is still 8th in total offense (372.1).
Prediction
I don't believe the weather will be an issue for the Bears unless they fall behind something like two scores. Then it could be a problem. I expect this to be a lower scoring game. With the weather like it should be, wide receivers are going to have to make adjustments because it's going to be harder to handle. This game should go into the fourth quarter with the Bears having a chance. They're going to need a turnover or two to put themselves in a position to pull this off. My concern is that Iowa State's defense at home is going to be really hard to handle. If it can take apart West Virginia's offense and hold Will Grier to 100 yards – yes, every game is different – then I'm concerned how effective Baylor can be.
Iowa State 33, Baylor 26