Baylor's 2018 class never wavered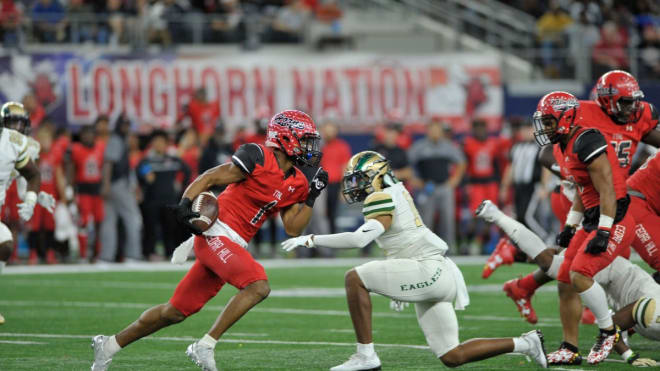 As the early signing period nears, Baylor is poised to land most of what Rivals rates as the No. 26 class. It's been steady in the mid-20s over the last several weeks.
A majority of this class held firm despite the 1-11 2017 season. But some of the major editions - Miami (FL) and Rivals No. 237 Tyquan Thornton and DeSoto defensive back Byron Hanspard - believed in the message head coach Matt Rhule and his staff presented.
In fact, all of them did. So take a look at what several of the 2018 commitments had to say in spite of Baylor's difficult season.
He said it: "The record we had last year doesn't really matter to me. It shows me that we can only go up from where we were last year. The way the coaches are setting up the system, it's built for success. But all great things take some to fully develop. I'm 100 percent sure that when it does start to show, everyone is going to know what we are about.''
He said it: "The loyalty of the coaching staff. They kept in contact with me through the good and the bad and constantly kept sharing their vision of where this team can go.''
He said it: "The commits are all so close. It would be too hard to leave these guys. We're already brothers and haven't even stepped foot on campus yet.''
He said it: "I saw the progression each and also I firmly believe what coach Rhule is building along with the incoming recruits. The future is bright. I wanted to be part of something special in the sense that in a year or two from now, we will be like, 'Look where we started and where we are at.'''
He said it: "They're rebuilding right now, so everyone looks at wins and losses. I look at what they started off with and how everybody has improved. Yeah, they lost, but they were neck and neck with the better teams in the [Big 12]. They just need a few more weapons on top of that. If you go to a school that's winning a lot and you come in, that makes you a little fish in a big pond. Bit if you go somewhere that's rebuilding, now you're a part of something special because you went there when they were down. You helped get the train moving again.''
He said it: "Building something great doesn't happen overnight. We have the right coaches and players to do that.''
He said it: "Just to turn around the program to a winning one again and just change everything about it to be good.
He said it: "I trust the process. I believe in coach [Matt] Rhule and his staff about this rebuilding. We have a great recruiting class full of players who are hungry with the same goal."
He said it: "The coaches have the right play. Every team has a bad year, and we definitely have the weapons to get back to a winning tradition.''