ANALYSIS: Transition seasons are what they are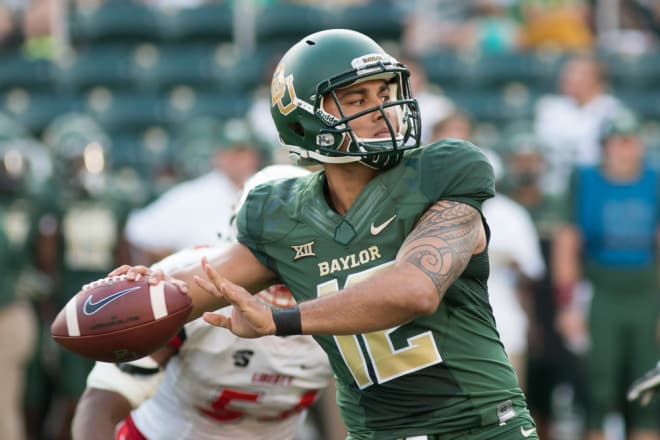 Founding Father Patrick Henry has the timeless quote that has spanned four centuries: Give me Liberty or give me death.
Baylor must have felt like it got both Saturday in Matt Rhule's debut as the program's 27th head coach.
On a night when hope reached a pinnacle, the Bears delivered a performance in the 2017 season opener against Liberty that went against what most believed. This team performed surprisingly well on offense. This team was surprisingly poor on defense.
The idea was that the defense was going to be the constant as the offense tried to figure out its identity.
After Liberty 48, Baylor, 45, it's not certain what 2017 is going to be. It's easy to kneejerk after one game. It's humbling because a program that is two seasons removed from a 10-win season loses to a FCS team.
You're probably tired of calling this a transition season. However, the eternal optimist has to recognize that when a program changes coaches, changes philosophy and is in the process of changing players to fit that system, it's not automatic.
In fact, it can be downright painful, frustrating and laborious. No one wants to go back to the drawing board. Baylor is nearly a decade removed from going through that. Before 2008, that's all this program was doing.
On the field, life had been good. That was 2010-2016. However, off the field moved this university and this program to tonight where 45,784 watched with stunned expressions at McLane Stadium. They don't want to go back.
This was the automatic win that all anticipated. The better test was going to be next Saturday against UTSA.
Now, UTSA is not a curiosity. It's urgent. It's a game that can really set up how the rest of this season is going to unfold. Bowl aspirations need to be checked until that result.
This is a young team. This is not a very healthy team. There are a lot of people playing in spots who are new to the position – see Blake Lynch who was playing cornerback. The last time he played in the secondary was safety when he was a senior at Gilmer – and you're just going to have to live with everything.
The loss is one thing. How Baylor lost is another.
Baylor's offense finished with 532 yards of total offense. Anu Solomon looked like the quarterback that he was when he played at Arizona. He threw for 278 yards, rushed for 97. His 14-29 passing was not indicative of how good he was. Bear wide receivers betrayed him with several drops. The Pick6 he threw was a mistake where the wide receiver gave up on the play. Nonetheless, the interception is in his column.
This defense was abused all night. Quick pass plays notwithstanding, this unit surrendered 585 yards of total offense and 103 plays. Liberty quarterback Stephen Calvert threw for 447 yards and three touchdowns and was never really harassed except for a couple of times.
For all of the hype the defensive line was given, it never controlled the line of scrimmage. Never. Liberty had the football for 38:16 and was 15-of-24 on third down attempts. Really, that was 15-of-23 because it was trying to run the clock down on its last possession.
Twice, Baylor closed to within three points between the latter stages of the third quarter and fourth quarter and couldn't get the Flames off the field to give the offense a chance to win the game. The Bears surrendered touchdowns on drives off seven plays and 44 yards (2:27 clock time) and 11 plays 65 yards (4:27). On two their last three touchdowns, the Flames scored on third down.
The secondary just didn't have any answers between Lynch, true freshman Harrison Hand, junior Jourdan Blake and safety Chance Waz (ejected for targeting and is expected to sit the first half next week). It doesn't help when the top two cornerbacks in Grayland Arnold and Jameson Houston are out with injuries. Maybe they help. Maybe not.
Rhule said all the right things in his postgame presser. He pointed out that there wasn't any finger pointing in the locker room. He put the loss on himself and the coaches. He pointed out that in the big picture, this team will be helping with shelters on Sunday for Hurricane Harvey relief efforts.
The eight-month honeymoon is suddenly in the rear view mirror. There are 11 other Saturdays to come. This football program will go through a lot more than what it dealt with on the first of the season.
It's not fun. There's a lot of wincing and perhaps some anxiety. Well, there could be a lot of anxiety.
Coaches talk about adversity in the sense of not what happens when it strikes but how you respond to it.
We're going to find out on Sept. 9.