2011: A Historic Season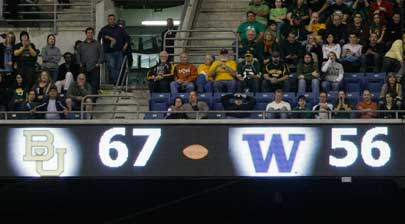 Historic is arguably the only word that can be used to describe the 2011 season for the Baylor Bears. Consider all that coach Art Briles' program accomplished:
* Produced the school's first Heisman Trophy winner in quarterback Robert Griffin III.
* Defeated Oklahoma for the first time in school history.
* Defeated Texas in consecutive years for the first time since 1991-92.
* Defeated Texas Tech for the first time as Big 12 members.
* Used a six-game winning streak to finish the season to enjoy its first 10-win season (10-3) since 1980.
* Went 7-0 at Floyd Casey Stadium.
* Will finish ranked at least No. 12 in the BCS.
Add in the fact that this offense mixed in seven games of 600 yards or more including the school-record and bowl record 777-yard performance against Washington in the Valero Alamo Bowl and you get the idea. Yes, this offense hid some of the defense's deficiencies. But the defense wasn't a passenger on the bus either.
For a season to have this kind of outcome, there are moments that define the season. SicEmSports.com examined the season. In chronological order, we present what we believe were those moments.
1. Beating TCU
Synopsis: Baylor place-kicker Aaron Jones kicked a 37-yard field goal with 1:04 remaining and Mike Hicks came up with the game-sealing interception as the Bears upset the 14th-ranked Horned Frogs, 50-48, on Sept. 2 at Floyd Casey Stadium. Baylor squandered a 47-23 lead and fell behind 48-47. But quarterback Robert Griffin put together the game-winning drive that included a Kendall Wright-to-Robert Griffin 15-yard completion on third down to keep the drive going.
What it meant: Baylor erased a humbling 45-10 loss to TCU the year before and showed that it could be a program that was ready to take the next step. "It's big to show we can come out and win a game like that," Griffin said.
Future impact: Griffin's Heisman Trophy candidacy appeared to be nothing more than the usual early-season hype campaign. Throwing for 359 yards and six touchdowns and winning on national TV on a Friday night changed the complexion of his candidacy.
2. Kansas Comeback
Synopsis: Down 24-3 to start the fourth quarter, the Bears' season was in jeopardy of collapsing against the Big 12's worst team on Nov. 12 in Lawrence, KS. But Griffin engineered three fourth quarter touchdowns including a 67-yard equalizing strike to Tevin Reese. Elliot Coffey forced overtime with an interception in the final moments. In overtime, the Bears foiled the Jayhawks' 2-point attempt and escaped, 31-30.
What it meant: The Bears became bowl eligible for the second consecutive year.
Future impact: This might have been the game that revealed there was a little bit of magic mixed in with this year's team. Regardless of the opponent, few teams can rally from a three touchdown deficit in the fourth quarter - on the road.
3. Oklahoma - FINALLY!
Synopsis: RG3's 34-yard touchdown pass to Terrance Williams with eight seconds to play lifted Baylor to a thrilling 45-38 victory over Oklahoma at Floyd Casey Stadium on Nov. 19. It was the Bears' first victory over the Sooners in 21 tries.
What it meant: This turned out to be arguably the biggest victory for Baylor football in at least the last 40 years. Consider the name Oklahoma and how Baylor's frustrations were nightmarish. A victory at night and on national TV gave third-party observers a far different perspective of this program.
Future impact: RG3 clearly surged to one of the top Heisman Trophy contenders because of this drive. Remember, the Sooners tied the game at 38 with 55 seconds remaining. Baylor got the ball back at its 20 with 51 seconds and no timeouts remaining. Griffin's 22-yard scramble changed everything about that possession because Briles was willing to play for overtime until Sooners' coach Bob Stoops called a timeout.
4. Heisman Trophy Winner Robert Griffin III
Synopsis: When his name was announced at the Best Buy Theater in New York City on Dec. 10, all of Baylor Nation erupted with euphoria. Baylor University had its first Heisman Trophy winner and could not have found a better representative than him. Griffin won with 405 first-place votes and 1,687 total points. Stanford quarterback Andrew Luck was second with 1,407 points and 247 first-place votes. Alabama running back Trent Richardson was third followed by Wisconsin running back Montee Ball and LSU defensive back Tyrann Mathieu.
What it meant: It revealed that college football's most prestigious award can find its way anywhere as long as it has the right candidate, the right campaign and the signature performances to match. Griffin finished the season passing 291-402-6 4,293 yards and 37 TDs. He also rushed for 699 yards and 10 TDs for a combined total of 4,992 yards and 47 TDs.
Future impact: If nothing else, it showed recruits from across the country that Baylor could be a place to consider because of the exposure it received.
5. 67-56
Synopsis: In a game that defied all logic, revealed two outstanding offenses and two brutal defenses, the Bears rallied from a 42-24 deficit in the third quarter to knock off Washington at the Valero Alamo Bowl Dec. 29 in San Antonio's Alamodome. Baylor's rushing attack led the way with 482 yards including Terrance Ganaway's 200-yard performance. Baylor's aforementioned offensive performance spoke for itself. The teams combined for a bowl record 123 points, 17 touchdowns and 1,397 offensive yards.
What it meant: Baylor's 10 wins were the first in 31 years and gave the program its first bowl victory since 1992.
Future impact: Speculation about Robert Griffin III's future at Baylor grows by the second. For now, Griffin has not publicly announced whether he will declare for the NFL draft in April. A decision should be coming soon.